Home Automation
Picture yourself at 5:30 pm on a freezing cold night in Central Illinois. You've just gotten off work and are about to make your 20-minute drive home. From the parking lot, you turn up the heat in your home just before leaving work. You arrive at your now warm house without having wasted hours of electricity or shivering while waiting for it to heat up after physically changing the thermostat.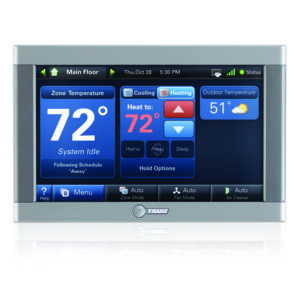 This and many other life-changing scenarios are now achievable. Home automation is a growing trend that's giving you, a homeowner, the ability to control almost any aspect of your home remotely with a computer or smartphone.
Not only is home automation convenient, being able to control your home remotely gives you peace of mind, protects your family from various dangers, and saves you money. Wm. Masters has skilled experts in home automation who can connect your home with these technologies to make your life better.
Home Automation Technologies Include:
Door Keypads
Advanced Thermostat Controls
Wired and Wireless Cameras
Lighting
Energy Management
Personal Security Controls
Sump Pump Alarms
Put the control of your home in the palm of your hand. Here are the three main categories of home automation available through Wm. Masters.
Electrical Automation
Not sure if you turned the lights off in the kitchen? Want to see if your kids locked the doors after getting home from school? You can, and it's easier to do than ever.
Since your home is powered by electricity, electrical automation can automate and customize dozens of appliances within your house. By utilizing electrical automation, you will save money, lessen overall energy consumption, provide additional security to your home, and lower your stress and worries.
Plumbing Automation
Plumbing isn't the first thing that comes to mind when thinking of home automation, but it's one of the most important functions in your home to monitor. All it takes is the failure of a sump pump or rusty water heater to flood your basement, costing you time and thousands of dollars to clean up.
You can monitor pipes, water heaters, sump pumps, and bathroom, kitchen, and laundry room fixtures using the FortrezZ Wireless Water and Temperature Sensor. The sensor alerts you when water is detected, or a temperature reaches a customizable set point, and protects your home from internal water damage.
FortrezZ also manufactures a wireless water valve, which is an innovative, professional grade, electrically operated valve that allows you to open or close the valve as needed. With the help of Nexia, this can be done from any internet-enabled smartphone, tablet or computer.
Your home doesn't end at your front or back door, and your plumbing system extends outside of your house. The Rachio Smart Sprinkler Controller changes the way you water your lawn. It makes running your sprinklers easy and convenient while saving you both water and money. Rachio automatically creates a watering schedule that lowers your water bill and ensures the beautiful yard you want, while the mobile app gives you access to your sprinkler system from anywhere. Rachio is compatible with nearly any sized yard and smart home platform.
Wm. Masters has years of experience with the above home automation products, and can provide additional information on request.
Heating and Air Conditioning Automation
Even if being able to turn up the heat while you're on your way home doesn't excite you, turning down your energy bill certainly should. Heating and air conditioning automation will give you the most control possible over your energy bill, and allow you to get the most out of your investment.
We have seen many changes in the products and services that are available to you as a homeowner over the past forty years. In order to best serve you, Wm. Masters stays up to date with the latest trends and have evolved ourselves.
The world of home energy conservation and automation is innovative and has many new technologies that allow you to control electronic components of your home from anywhere. We have access to the best in home automation, and certified technicians who can install it properly to update your home and make your life easier.
Give us a call to learn how home automation can work for your family. To email your questions fill out our contact form and a customer service representative will respond as soon as possible.