Service, Repair & Maintenance
At Wm. Masters, everything we do is focused on providing outstanding customer service and caring for each customer. Our phone line is open, and we're ready to help 24 hours a day, 7 days a week, making sure you have access to a professional customer service representative at any hour for any reason.
When you work with us, you're working with a company that strives to maintain an industry-leading response time for all home-related emergency calls. Whatever fixtures and appliances are in your home, be assured that you will be taken care of quickly by one of our highly-trained technicians.
Click here to view our current Heating & Air Conditioning Service Rates.
Click here to view Travel Fees for out-of-town customers.
Repair & Maintenance
Did your air conditioner stop running? Is the heat coming from your heater only half as warm as it used to be?
It's always better to be safe than sorry when it comes to your family and home, and by detecting problems early, you can save money and future headaches. When you have questions, we're here to answer them. For any repair questions, contact us. Our trained customer service specialists will assess the situation with you and assist in deciding if a visit from one of our technicians is necessary.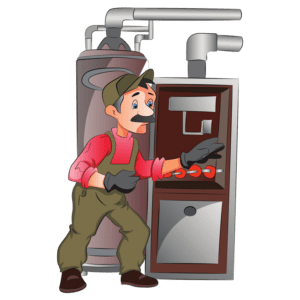 Do you really need maintenance performed if your furnace and air conditioner are only a year or two old?
Believe it or not, even after as little as one year, systems start losing efficiency. For every 10% of lost efficiency, your utility bills can rise by as much as 23%!
Your heating and air conditioning system is probably the most expensive piece of equipment in your home. By keeping your system maintained on a regular basis, like your car, you can extend the life of your new system and the savings from it running efficiently. By keeping the furnace and air conditioner tuned up, you are protecting your investment.
Wm. Masters can help protect your investment and provide needed maintenance.